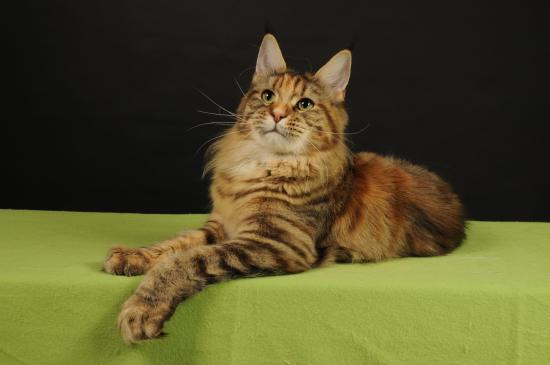 Levaihcoon's Rubina
3 Novembre 2009 - 14 mars 2011
Notre message d'Adieu pour Rubina en allant sur sa photo / Our Farewell message to Rubina click on her picture
Nous ne pensions pas devoir créer cette page si vite et c'est le coeur bien triste que nous écrivons ces quelques lignes./We did not think that we will have to make this page so early and we are writing those lines with broken hearts.
Nous avons commencé notre activité d'éleveur seulement en 2010 et nos premiers Maine Coons sont arrivés à la maison entre Novembre 2007 et Juin 2009. / We started our cattery in 2010 and our Maine Coons arrive home between November 2007 and June 2009.
Nos chats sont jeunes et en santé. Mais la vie quelques fois en décide autrement ./ Our cats are young and healty. But life sometime decide to do other way.
Notre Rubina nous a quitté le 14 mars 2011. Elle s'est endormie dans les bras de Pascal après avoir lutté contre une leucémie, une putain de maladie ! / Our loving Rubina path away on March 14th, 2011. She felt asleep in Pascal arms after fighting against Leukaemia, Whore of disease !