---
Plus de petits Calvin Coon's pour le moment !
Bientôt les plans pour 2018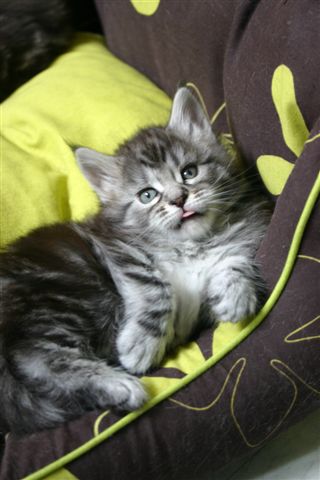 Vos demandes sont les bienvenues.
Pas de réservation de chaton avant qu'ils n'atteignent l'age d'un mois. No booking before the kitten is one month old.
Nos chatons ne pourront partir dans leur nouvelle famille qu'à partir de 3 mois. Pour la compagnie les chatons seront stérilisés par notre vétérinaire sans frais supplémentaire avant leur départ.
Nous ne placerons pas nos chatons en reproduction chez des personnes sans affixe enregistré à un livre d'origine officiel. L'éleveur Particulier doit avoir au moins passé le CETAC ou équivalent, l'éleveur professionnel doit en plus avoir son Certificat de Capacité/ Your request are welcomed. We are not accepting to give our kitten for breeding to someone without a registred cattery name to official cat registration book.
Evaluation : Nous souhaitons suivre l'évolution du chaton afin de confirmer s'il restera avec nous. Le chaton peut redevenir disponible à tout moment.
Evaluation : We want to follow the evolution of the kitten to know if he/she will stay home. The kitten can be available again.
Disponible : Le chaton est disponible à la réservation
Available : the kitten is available
Option : Une personne est intéressée par le chaton et souhaite suivre son évolution avant de confirmer sa réservation ou non. Le chaton peut redevenir disponible à tout moment.
Option : Someone is asking for the kitten but would like to see his/her evolution before booking the kitten. The kitten can be available again
Réservé : Une personne a versé un accompte. Le chaton n'est donc plus disponible.
Réservé : Someone has already pay a deposit for the kitten. The kitten is not available anymore.