The three most beautifull Maine Coon boys in the world are for sure ours !
I have the honnor to introduce the best Maine Coon's Band :  CALVIN, DARIUS et LENNOX !
CALVIN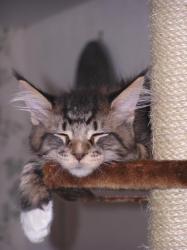 Nickname : Cavinou , Kiki
Calvin is born on August 27th, 2007. He is Black Mackerel Tabby and white. It is our first Maine Coon and the one who gave us the "Maine Coon Passion" or I should say "Maine Coon Power" lol . First of all he is Pascal cat, Calvin follows Pascal all the time. Calvin is heavy and massive. He is big. He has very nice ears with linx tips like is mother Baboo. But he looks like his father Arthur as a twin. With Calvin, you know immediatly if he likes you or not. He could not bear his breeder. It is one of reasons why he did not stay at her Cattery for her breeding plan. When he is walking he looks like "Aldo Maccione" and get a very specific Swayed hips.
LENNOX VAN DE BORG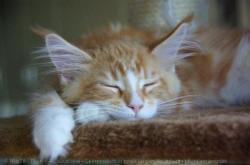 Nickname : Lenni, Lechette, Lechouille
Lennox is born on January 25th, 2008 in Germany at our friend Pamela Bohg home.  He is Red blotched tabby and white. He is the games friend that we looked for our Calvin. And he is the "Rourou" (means Red-Red) that Christiane was looking for. A very long body, A blazing colour, a Pacha's look that does not prevent him to be a very cute and sweet. He also likes licking us that is why one of his nickname is "lechette". He loves to be on our bed at our feet at night like if he was protecting us.
Thank you so much dear friend Pamela for this wonderfull boy. We will always be good with our loving Lennox and we will always be in touch with you.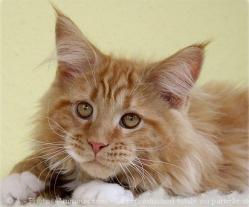 ALDAKER DARIUS
Nickname : Didi, Didou, Doudou
Darius is born on January 18th, 2008 in Poland nearby Gdansk at our friends Jowita & Marek home. He is Red blotched tabby and white. Darius was not supposed to come anymore after we made the reservation for Lennox. But Christiane after cancelling the Option we made was not able to let him go. She called back Jowita and booked her fly to Gdansk to bring back Darius home. A very strong relationship is between Darius and Christiane. Darius has a very very long body and very big cat. In his mind, he is a baby and if there is something wrong to make, he is going to make it. But then he get this special glance that makes you forgiving him.
Thank you so much Jowita and Marek for your trust and your welcome. I know that the time at the airport was difficult for you. But be sure that I will always take care of Darius as now he is my baby for ever.